Harvest flowers in the cool morning. In dry conditions irrigate prior to harvest. Flowers are pulled rather than cut to ensure the longest possible stem length. Do not cut base of stems at this stage in the field.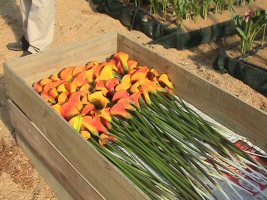 Place dry flowers flat in boxes/trolleys for immediate transfer to coolstore prior to grading. Ensure boxes are covered in transit to avoid contamination.
Place harvested stems, dry in cool store at 6-8°C for pre-cooling prior to grading. Stems can stay dry for up to 6-8 hours without any damage.
Stems may be dipped in clean, treated water (add bacteriostat eg. chlorine) to remove any soil or media.
Dip flower heads in a solution containing fungicide Rovral® and insecticide eg. Ripcord® to remove any insects and provide post harvest protection Gently shake to remove excess moisture.
Absolute attention to hygiene is vital at all stages of the picking process. All grading areas and buckets must be regularly scrubbed with chlorine based bleach or sanitiser prior to grading.